Efficient Kitchen Design with Style
Planning the layout, traffic flow, cabinets, storage space, colors, finishes and materials can be a daunting task for a homeowner. Some prefer the kitchen to be a warm, inviting place and the hub of activity in the house. Other tastes range from a minimalist kitchen to an exotic kitchen.
You may have special items to be displayed such as wine bottles, cookbooks, a spice rack or crockery. Perhaps you have always wanted to have rails to hold your wine and champagne glasses upside-down.
Maximizing Kitchen Function, Space and Budget
The expense of relocating or replacing the refrigerator, oven, range top and hood requires special consideration. Will the kitchen double as an informal dining space? A Certified Kitchen Designer can help you make these decisions and build the kitchen of your dreams.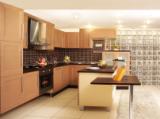 Heather M. Baskerville, CKD®
Certified Kitchen Designer